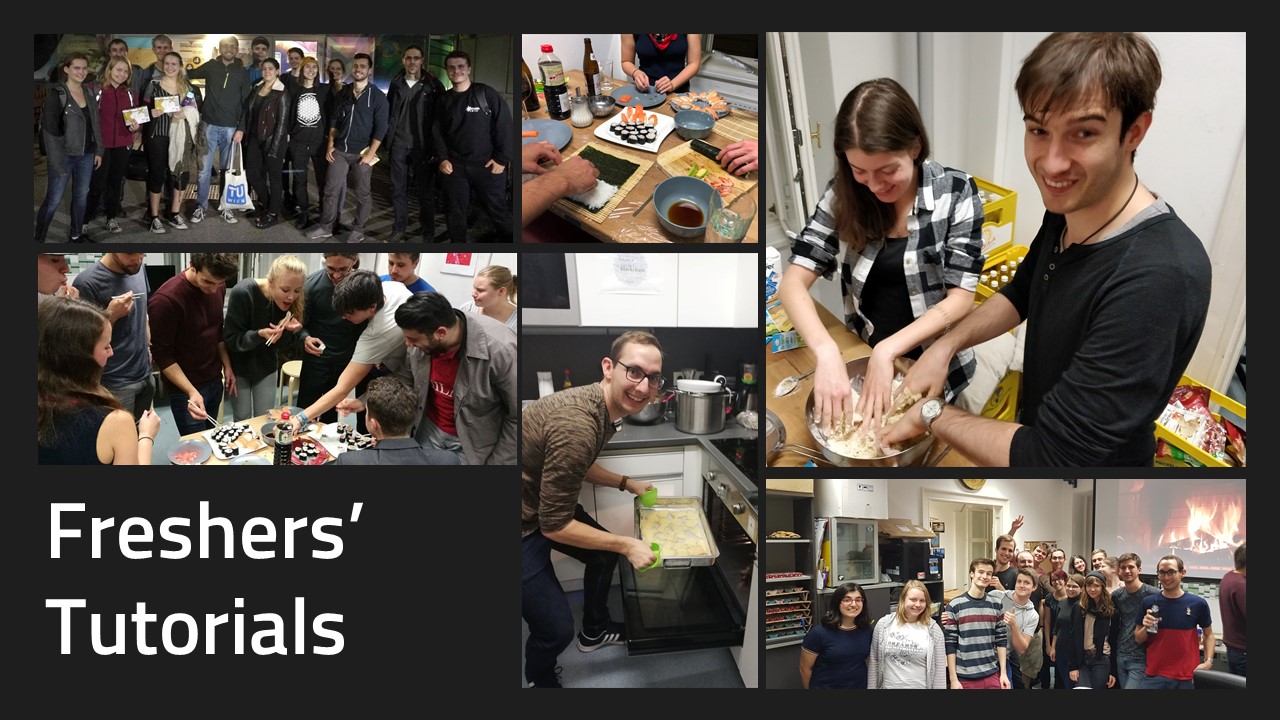 We want you to have a lovely and memorable start into your studies. That's why we offer you many Freshers' Tutorials (Erstsemestrigen-Tutorien or just E-Tuts). They take place on an irregular basis. That's why it's best for you to follow us on Facebook and Telegram to never miss out on any! You can also find the dates in our subscribable calendar.
Important information regarding E-Tuts
Due to the current situation regarding COVID-19 and the regulations imposed by the government we are forced to cancel all our E-Tuts.
We will inform you about etuts taking place again after the period in which the regulations are in place.
If you have questions about how TU Wien deals with the current situation, you can visit their info-page:
https://www.tuwien.at/en/tu-wien/organisation/service-providers/real-estate-and-facility-management/safety-occupational-health/coronavirus/
E-Tuts in summer semester 2020:
Waffles
Come by and get to know other freshers and us while enjoying free waffles!
– Fr, 09.03.20 10:00-13:00
– @ FS Winf
How to Git
Do you want to learn git? Then come to our git.tut
– Fr, 10.03.20 18:30
– @ FS Winf (FAV01A)
Bouldering-Tut
Did you ever want to get high? Come to our Bouldering-Tut!
– Wed, 11.03.20 17:00 (Meeting point directly at the gym – Boulderbar Hauptbahnhof)
– Wed, 18.03.20 18:00 (Meeting point directly at the gym – Boulderbar Wienerberg)
Both for pros and beginners. There are enough hard and easier problems! After the session, we want to have a talk with you in a comfortable setting to answer your question regarding studies and other things. Of course, we also will have some cold beverages to cool off your fingertips.
Pub-Crawl
Get to know the most cozy bars in Vienna. The first beer is on us!
– Fri., 13.03.20 19:00
– @FS Winf
Sauna-Tut
Burnout after three weeks already? Come to our Sauna-Tut and just relax.
– Mon., 16.03.20 18:00
– @FS Winf
Weisswurst breakfast
Do you like to know what a traditional white sausage breakfast is?  And you need advice at your Master or Bachelor curriculum? Perfekt, this event has both!
– Thu., 26.03.20 10:00
– @FS Winf
"Werewolves" Night
We play the game "Werewolves". From newbies to veterans to the game, everyone is welcome!
– Thu, 26.03.20 18:00-21:00
– @ FS Winf
Dumpling-Tut
You will get to know how to make dumplings.
– Wed, 29.04.20 17:00
– @ FS Winf
Cocktail gathering
– TBA
– @ FS Winf
Flunkyball
A friendly game of flunky ball in the courtyard of the Favoritenstraße building.
– TBA
– @ FS Winf
Sushi-Tut
Learn how to make Sushi
– TBA
– @ FS Winf
Cookie-Tut
Learn how to make cookies
– TBA
– @ FS Winf
LAN Party – Tut
Our WINF (W)LAN Party E-Tut starts into the first round. Do you love computer games?
Play with us!
– Fri, 08.05.20 18:00 till the early morning hours
– @ FS Winf