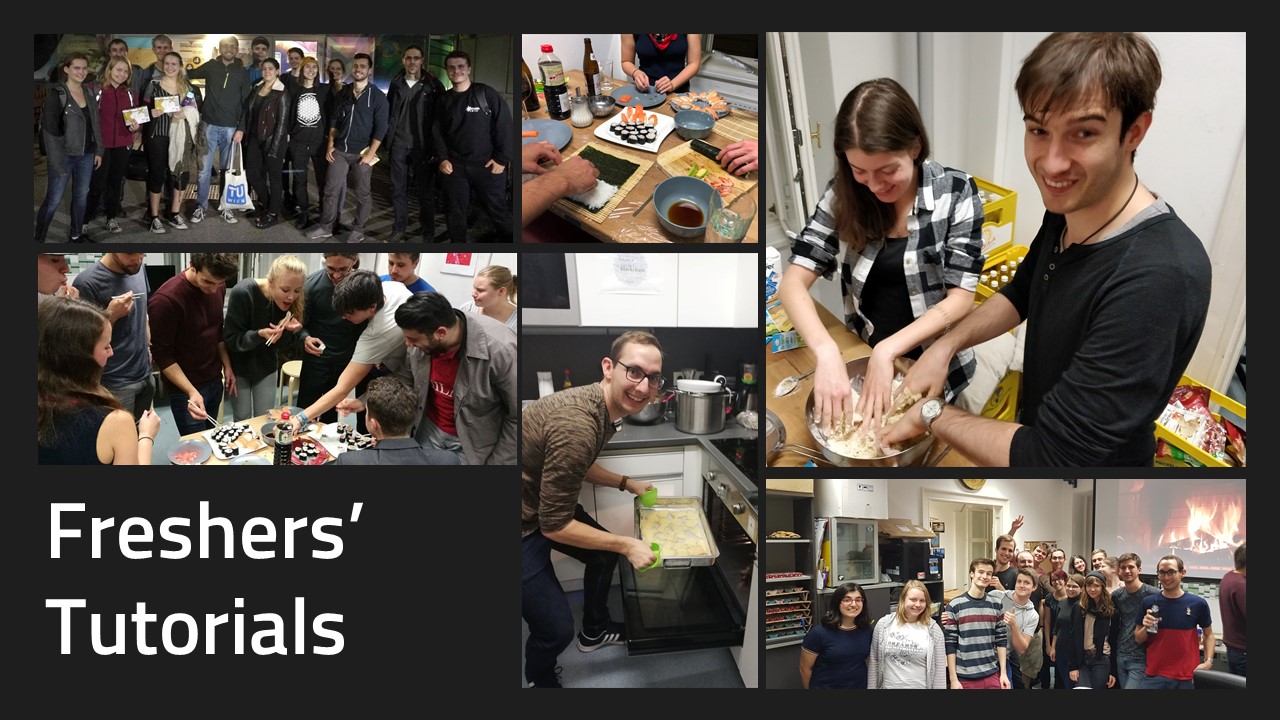 We want you to have a lovely and memorable start into your studies. That's why we offer you many Freshers' Tutorials (Erstsemestrigen-Tutorien or just E-Tuts). They take place on an irregular basis. That's why it's the best for you to follow us on Facebook and Telegram to never miss out any! You can also find the dates in our subscribable calendar.
E-Tuts in winter semester 2019:
Bouldering-Tut
Did you ever want to get high? Come to our Bouldering-Tut!
– Thu, 03.10.19 17:00
– Thu, 10.03.19 17:00
Meeting point for both Tuts at the big library owl (at the corner of Wiedner Hauptstraße and Treitlstraße)
HowTUStudent Bachelor – Tut
How does one study? How is it to live in Vienna? How does TISS and TUWEL work? We are here to answer these and many other questions at this tut.
– Fri, 11.10.19 19:00-21:00
– @ FS Winf
Meditation – Tut
Details tba
– time tba
– location tba
"Werewolves" Night
We play the game "Werewolves". From newbies to veterans to the game, everyone is welcome!
– Tue, 15.10.19 18:00-21:00
– Wed, 20.11.19 18:00-21:00
– @ FS Winf
Cooking-Tuts
No matter if you are more a "three minutes in the microwave"-person or a "three star Michelin chef", you are just right for our Cooking-Tuts. Join us in our rooms to make food with easy-to-learn recipes. The ingredients are provided by us.
– @ FSWINF
– Thu, 17.10.19 17:00 Jiaozi / Chinese Dumplings
– Fri, 25.10.19 17:00 Pizza
– Thu, 07.11.19 17:00 Sushi
– Thu, 28.11.19 17:00 Special Edition: Cake
– tba Special Edition: Cookies
– tba Schweinsbraten / roast pork
Flunkyball
A friendly game of flunkyball in the courtyard of the Favoritenstraße building.
– Fri, 18.10.19 18:00
– Meeting point @ FS Winf
Bowling – Tut
– Wed, 06.11.19 18:00
– location tba
Debattier-Club
We will go to the debate club of the Akademisches Forum für Außenpolik. 6 speakers (3 pro, 3 contra) will debate about a topic which will be announced there. Furthermore there is the possibility to hold a shorter free speech, but nobody has to speak!
Please sign up in advance and tell us if you want to hold a free spech or participate as a guest to laszlo@winf.at.
– Wed, 13.11.19 18:00
– Meeting point @ FS Winf
LAN Party – Tut
Details tba
– Thu, 14.11.19 18:00 till the early morning hours (next day holiday)
– @ FS Winf
Sauna – Tut
– time tba
– location tba
Past E-Tuts
Waffles
Come by and get to know other freshers and us while enjoying free waffles!
– Fr, 27.09.19 12:00-14:00
– @ FS Winf
Beginner's Trail @ FS Winf
Get infos about your studies and the university with free coffee & waffles.
– Tue, 01.10.19 11:00-16:00
– @ FS Winf
FS Winf Meet & Greet
Get to know us. The first drink is on us!
– Tue, 01.10.19 ab 18:00
– @ FS Winf
Pub-Crawl
Get to know the most cosy bars in Vienna. The first beer is on us!
– Fri, 04.10.19 19:00 c.t.
– Meeting point @ FS Winf
AMA Master
Are you doing your masters or you are interested in starting with it? Do you have any questions on transition rules, additional requirements for your admission, content of your studies or anything else? Get answers to all your questions at our AMA (ask me anything) event.
– Tue, 08.10.19 17:00-18:00
– @ FS Winf
Speedfriending-Tut
An honest advice: It takes more than one friend to have a good university experience. If you want to get to know others, to start new learning groups and find new friends fast and without hassle, come to our Speedfriending-Tut.
– Tue, 08.10.19 18:00-21:00
– Seminarraum Zemanek (Favoritenstraße 9-11, Ground floor)