At the beginning of the wintersemester 2018/19 there will be a new structure for the Business Informatics master's program. The new structure allows students to choose from a wider range of fields they want to learn about during their master program. Please be aware that changes of LVAs in some modules are still possible!
Important Information for Bachelor Students: If you attend courses from the masters program, while being in the bachelors program, finish your bachelor studies until October 2018. If you have completed courses according to the current master while being in the bachelors program, the upcoming "transition rules" (Übergangsbestimmungen) are not applicable. They are applicable if you are enrolled in the current master. After October 2018 you can not enroll in the current master anymore, resulting in a loss of courses you already completed and new courses which you must complete according to the new curricula.
The new structure: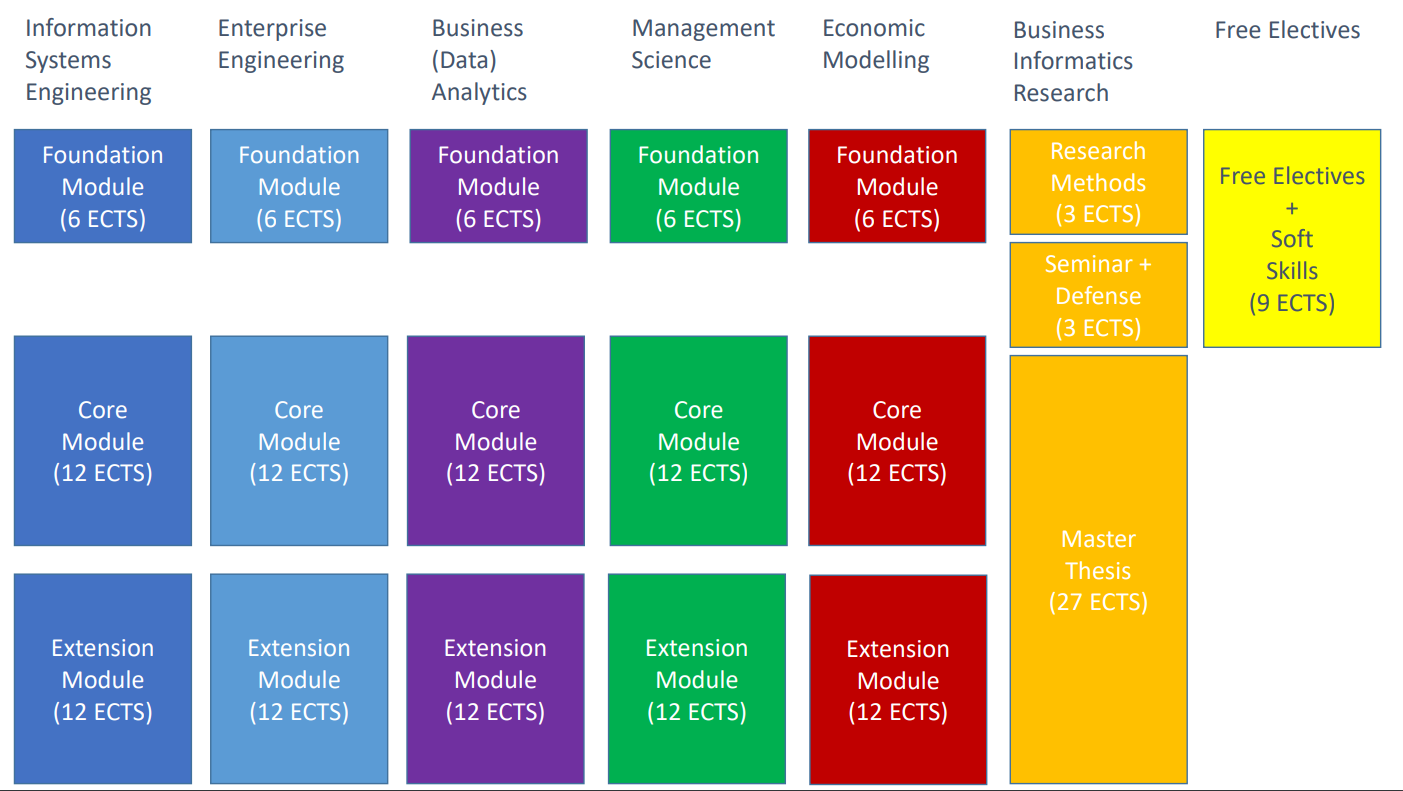 Mandatory-Part: All foundation modules, the Business Informatics Research track, free electives + softskills module.
Optional-Part: You have to complete 4 x 12 ECTS Modules, but it is up to you if you choose
2 x Core Modules + 2 x Extension Modules
3 x Core Modules + 1 x Extension Module
4 x Core Modules
Core Modules contain 12 ECTS (no choosing) in comparison to Extention Modules which contain more than 12 ECTS which you can choose from.
Important: You have to complete the related core module at the end of your study, if you choose to complete an extension module of the same track (e.g. Enterpise Engineering). They are not meant as a "gate keeper".
You can find the courses of the foundation and core modules below. The list of the extension courses will be added in the near future. The idea is now to add every course which is thematically related to one of the tracks to the corresponding extension tracks.
Information Systems Engineering
Foundation module:
Core module:
Enterprise Engineering
Foundation module:
NEW Enterprise Architecture VU (3 ECTS)
Core module:
NEW Social Network Analysis VU (3 ECTS)
Business (Data) Analytics
Foundation module:
Core module:
Management Science
Foundation module:
Core module:
NEU Design of Information Systems for Production Management VO (3 ECTS)
NEU Assistive Systems in Production 1 VU (3 ECTS)
Economic Modelling
Foundation module:
Core module: